Each month I'll write a bit about a cassette in my collection! Give it a listen and read on, if it sounds like something you might like - make sure to check out their bandcamp! Also, if you'd like to recommend a tape to me, leave me a comment on my guestbook!
April 2022 - Cockeyed by Bev Rage & the Drinks
This month I'm listening to Cockeyed by Bev Rage & the Drinks. To quote their bandcamp page: "Bev Rage & the Drinks are a loud, fast, and brash queer garage-pop band from Chicago. Fronted by guitarist Beverly Rage, a 7- foot tall drag queen with hair and heels, the band is known for their riveting live show of all original songs rarely breaking the 3 minute mark. Rounding out the band are Sam Westerling (bass and vocals), Mary Rose Gonzales (drums), and Dan Jarvis (lead guitar and vocals)."
This album has so many good songs - catchy, fast and funny, with loads of clever, crass lyrics and a punchy garage/pop punk sound. I'd love to see Bev Rage & the Drinks in person one day, certainly with a drag queen leading the show! It feels like a good tribute to queercore and a callback to those days when drag was more common place in queer punk bands. I absolutely love this band and can't wait to see what they come out with next!
Though it's difficult to pick a definitive favourite, mine would likely be Waffle House, which tells the story of being horny in a Waffle House - as someone who's never stepped inside a Waffle House personally, I find this song really informs my understanding of American culture. I'll make sure to visit a Waffle House one day if I ever find myself in the US, to see if my experience compares to the song.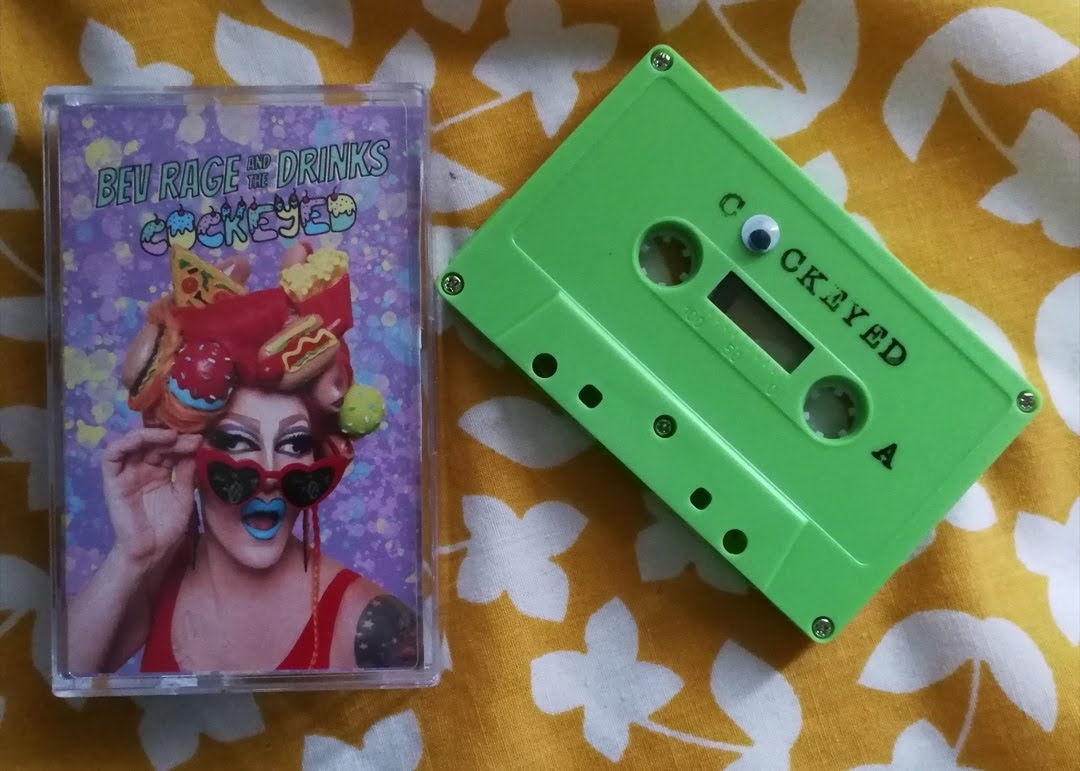 The cassette itself is a satisfying green colour, with a perfectly placed googly-eye. The J Card is bubbly and brightly coloured and is a perfect representation of the band and this album. The cassette came with loads of stickers and other merch, which was a really nice personal touch.
Cockeyed is a perfect start to spring!